Top Furniture Brands. Lowest Possible Prices.
Shop high-end furniture at surprisingly low prices.
Discover hard-to-find or not-available-to-the-public furniture from the top manufacuters in the world, and get custom quotes that beat even the stores.
Luxury Furniture & Collections from Top-End Furniture Manufacturers
Receive surprisingly low quotes for your favorite pieces or packages from the leading high-end furniture manufacturers in the world.
American Drew
American Drew is a well-established, leading manufacturer of mid priced bedroom furniture that has been in business since 1927.
A.R.T. Furniture
A.R.T. Furniture is the perfect blend of form and function. Our pieces are designed to withstand the test of time, both in terms of durability and style.
Bellini Modern Living
Bellini helps individuals express their personal style in fresh and exciting ways. The company's dining, living and entertaining furniture collections are perfect for any home.
Bernhardt Interiors
Bernhardt Interiors is a luxurious furniture brand that takes the idea of beauty in art and applies it to the craftsmanship of their pieces.
Caracole
Whether it's a classic design with a modern twist or a thoroughly modern piece with classical influences, each piece is marked by exceptional style.
Charleston Forge
With a commitment to American craftsmanship, Charleston Forge furniture is the perfect addition to any home.
Butler Specialty Company
Butler has been supplying high-quality, stylish furniture to homes and businesses across the country for nearly a century.
Chelsea House
Our furniture is designed to provide comfort and style in any setting. From contemporary to traditional, our pieces are meticulously crafted to provide both function and style
Coast to Coast Accents
We specialize in delivering quality furniture for the home at the greatest value
Crystorama Lighting
Our exceptional lighting fixtures are sure to illuminate any space and create a warm and inviting atmosphere.
CTH/Sherrill Occasional
Whether you're looking for traditional or contemporary, formal or casual, we have the perfect piece for you.
Curry & Comapny
At Curry & Company, we design and manufacture distinctive home furnishings that add style and personality to any space.
Elk Home
We offer an impressive range of products for the price conscious and attainable luxury consumer.
Elk Lighting
With a wide range of lighting options available, from floor lamps to ceiling lights, there's something to suit every taste.
Fairfield Chair Company
From stylish and comfortable sofas and chairs to beautiful desks and tables, Fairfield Chair Company has something to suit every taste.
Four Hands
Four Hands Furnishing Style is more than just a furniture company- we're style experts who believe that furniture can truly transform a space.
Gabby Furniture
Gabby Furniture takes traditional and modern design principles and melds them together for beautiful transitional style.
Global View
Whether you're searching for the perfect addition to your living room or looking to make a bold statement in your entryway, Global Views has what you need.
Hammary Furniture
With a variety of styles and materials to choose from, Hammary has the perfect furnishings for any taste or budget.
Hekman Furniture Co.
Hekman offers gorgeous dining room, bedroom, living room, and home office furnishings that will make your home look simply stunning.
Hickory White Furniture
Our top-of-the-line furnishings are designed to be both beautiful and durable, so you can enjoy them for years to come.
Hooker Furniture
No matter what your personal style may be, you're sure to find something you love in Hooker Furniture's vast collection.
Howard Elliot Collection
Our collection of innovative and quality-made products are designed to inspire your creativity and help you achieve your design vision.
Jamie Young Co.
Whether you want to add a personal touch to one of our existing pieces or create something entirely new, our team of experts can help you make your vision a reality
John Richard
From award-winning designers to world-renowned artists, we collaborate with the best in the business to create pieces that are not only stylish but also well-made and innovative.
Lexington Home Brands
Lexington Home Brands is a design leader in the home furnishings industry, offering an extensive product assortment for every room of the home.
Loloi Rugs
Our rugs are not only beautiful and well-crafted, but they also have the power to transform a space and make it feel complete.
Magnussen Home Furnishings
With an eye for detail and a passion for perfection, each piece that Magnussen Home Furnishings creates is exceptional.
Michael Amini
His furniture is not only beautiful and sophisticated, but also functional, meeting the ever-changing needs of the consumer.
Noir Trading Inc.
Whether it's the craftsmen who bring his pieces to life, or the local materials available, Georg always manages to create a unique Noir vision.
Pacific Coast Lighting
Whether you are looking for a statement piece for your living room or a functional light for your kitchen, Pacific Coast Lighting has what you need.
Sam Moore Furniture
Our stylish and trendy transitional furniture is perfect for those who want a chic yet timeless look, while our classic pieces are ideal for those who appreciate traditional design.
Sarreid LTD.
No matter what your style or taste, Sarreid Ltd has something to suit your needs. From classic, traditional pieces to modern, contemporary designs, we have it all.
Sherrill Furniture
Sherrill Furniture offers a wide variety of furniture styles to suit any home décor, including traditional, contemporary, and transitional.
Sonder Living
At Sonder Living, we believe in the transformative power of design. We are committed to championing design in all its forms and promoting artful living.
Stein World
Our pieces are handcrafted with unique features and finishes that will add character, personality and drama to any space.
Sligh Office & Media Design
With a legacy spanning 133 years, this company is the leading manufacturer of innovative home office and entertainment products.
Theodore Alexander
We use only the highest quality materials and our pieces boast unique features such as one-of-a-kind finishes, hand-painted detailing and exquisite hardware.
Universal Furniture
Our styling is timeless but remains fresh, and the pricing is unbeatable for the high-quality products we offer. Plus, our furniture is designed to fit the way your customers live today.
Whittemore - Sherrill
The Whittemore-Sherrill brand is highly respected for its commitment to quality and its dedication to creating beautiful, timeless pieces
Zuo Modern
Stylish and contemporary furniture pieces are perfect for anyone who wants to add a touch of flair to their home décor.
New collection coming soon
Quality Matters So Brand Matters.
There's a reason the top high-end furniture brands stand the test of time, and that reason is quality, reputation and trust. Most, if not all, of the brands on furnituremanuracturers.net have been around for decades. If you're looking for quality furniture that is going to last and not drastically depreciate in value, go with a reputable brand.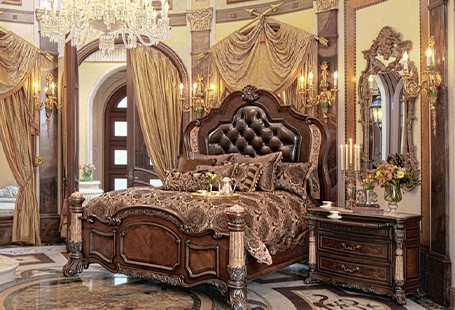 This month's featured furniture manufacturerer
Michael Amini, a lifelong lover of travel and culture who has immersed himself in the art world through his extensive travels around Europe. He combines both old world charm with new to create designs that are uniquely inspired by every destination he visits while also paying homage back home for where they come from.
Life is too short for boring. Create a living space that inspires.